Catchblog
Lureparts.nl at the Visma 2008
New on this site

Catchblog.
Since the beginning of this website people asked me to place pictures of there catched fish. Until now I always refused that because it was my opinion that our website is all about building lures, and not about catching fish.

But my vision regarding this item has changed and I discovered that the catches are as important as the lures. Therefore I have decided to created a blog where people can put their pictures of catched fish. Everyone who want's to put pictures in the blog will get authorisation from me.

Off course I don't mean just any pictures of a catch. No no, in this blog only pictures of fish caught on homemade lures are welcome. More explaination can be found in the blog. The blog itself can be found at http://vangsten.lurebuilding.nl and the blog is accessable for everyone.

Do you want to put your pictures in the blog, just send me an e-mail and I will provide the nessaccery acces.






Lureparts.nl at the Visma 2008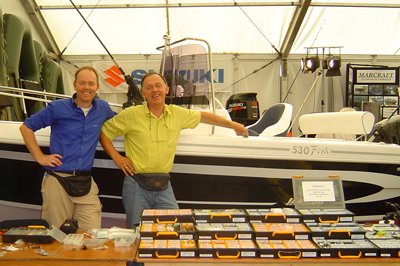 In march we will be present at the VISMA. This greatest anglerspectacle in the benelux will occur in AHOY Rotterdam from 27 till 30 march 2008. We will be present with lots of new products such as:


-The greatest predator fishinglines in the world (Tuf line XP);
-Chatterblades;
-New sizes stickeyes;
-new building packages (Druppels from NK baits!).

And we bring our entire stock aswell.!

We will also sell the jerkbaits of Nick Kloosterman (NK baits) during this event. Nick will be present at our stand on saturday.

We will show you all ins and outs of softbait building. Next to our own stock we have all softbaits of Henk Thielens (HT-baits) in our stand.

And we are going to sell a great assortment of Pikemaster Lures, like the famous Busterjerk.

We hope to see you there.

Lureparts.nl
Leo en Oscar